Beginner

Sugar Roses and Flower Box Cake
Work with gumpaste to create lifelike sugar roses. Create a Venus Et Fleur style flower box cake to place the flowers in!
Check out more pricing options for our Advanced courses!
$37
Single
Access "This Course" for life

Available 24/7
Monthly
Access to all "Beginner" level courses

Available 24/7
Best value
$15
/ monthly
* $180 Billed annually
Yearly
Access to all "Beginner" level courses

Available 24/7
Learn How to Create Realistic Sugar Roses and a Flower Box Cake!
In this course you will learn how to create realistic sugar roses out of gumpaste as well as a flower box cake to display your roses in. We will cover every detail from making gumpaste from scratch, to rolling and cutting petals, and shaping the flower to form a beautiful rose. You will build and ganache a perfectly round 4 layer cake. We will use fondant and paint to transform the cake into a detailed flower box in the famous Venus Et Fleur style. Lastly, we will place the roses on the cake to bring the flower box to life!
This class has six lessons that will cover every step from forming the flowers to building and decorating the cake, to create lifelike roses in a flower box cake!
Gumpaste Rose and Flower Box Cake
Lesson 1 – Rose centers and first layer of petals

Forming the center buds for the roses.

How to color and roll out gumpaste.

Thinning and shaping the petals on the flower to form the first layer on the rose.
Lesson 2 – Second and third layers of petals
How to prevent the gumpaste from drying out as you work on multiple roses.

Adding additional layers of petals and creating the rose spiral.

Ensuring proper drying time between layers of petals.
Lesson 3 – Build and ganache the cake
Trimming and building layers of cake evenly.

Adding structural support for the tall cake.

Working with ganache to achieve a leveled cake with perfectly straight sides.
Lesson 4 - Fondant the flower box cake
Strengthening fondant to allow it to dry fast and sturdy.

Rolling out fondant evenly and applying it to the cake smoothly and seamlessly.

Adding proper support to allow the fondant to stand tall above the sides of the cake.
Lesson 5 – Create the text templates. Transfer and paint the templates on the cake
Create templates for the text and design's to be transferred onto the flower box.

Paint fine detail with gold luster dust, steadily and neatly on the cake.
Lesson 6- Fourth layer of petals and placing the roses in the cake
Add the final layers of petals, shape them to bloom openly.

Place the roses on the cake to bring the flower box to life!
Your Instructor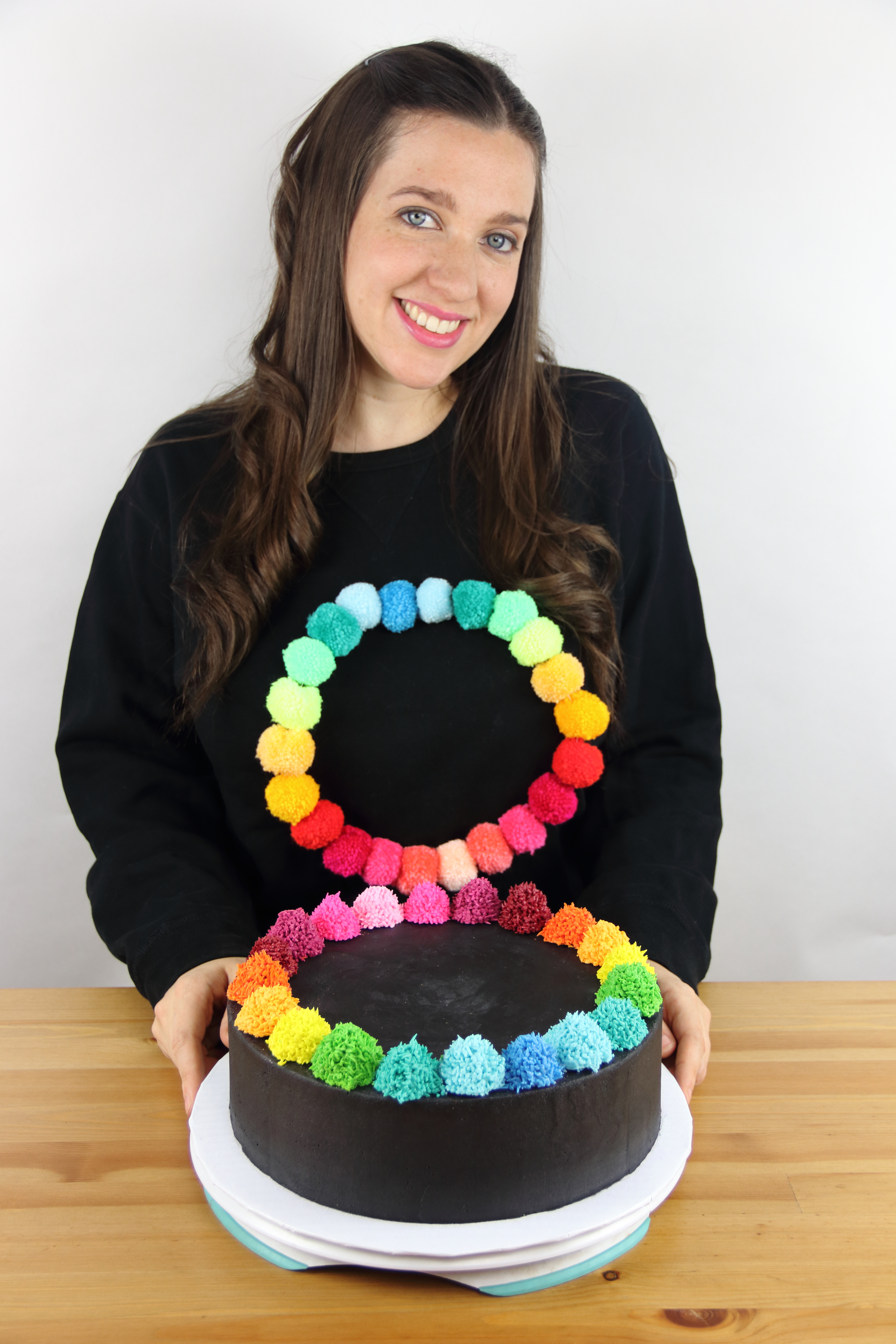 Melissa's passion for creating cakes began early on when she was just a teen. She would watch cake shows on TV and thought, "I want to try that!". Instantly she spent all of her free time reading books and searching the web to learn anything she could about cake decorating. She was always an artist, working with paint, clay and fashion design, but when she discovered the art of cake, it became her all time favorite medium to work with.
In 2010, Melissa landed an internship with the Cake Boss, where she learnt the fundamentals of cake decoration. While attending college at Pratt Institute, Melissa studied painting and sculpture; incorporating edible materials into any project she could. After college Melissa turned her passion for cakes into a career, launching Melissa Alt Cakes in 2015.
Since the start of her business Melissa's cakes have been featured in numerous magazines and reached international recognition. She's created cakes for Google, Time Out NYC and Harper's Bazaar. She won the award for Best Show Cake at the 2017 NY Cake Show. In the spring/summer of 2018 Melissa worked as the Culinary producer for Reality Bites Cupcakes on Food Network. Melissa is also the exclusive cake decorator for Dylan's Candy Bar in NYC.
Melissa's cakes are her art. She strives to create one of a kind artistic creations that form an experience of joy and beauty. When she is not making cakes you can find Melissa cuddling her dog, camping, watching a horror movie or drinking delicious IPA on a rooftop. She is constantly inspired by her surrounding environments and adventures. Each cake Melissa makes is an expression of herself. Extreme passion, dedication and numerous hours are put into every piece of work Melissa creates. Her favorite moment is when the creation is cut and her art becomes delicious cake!
To Melissa there is nothing she loves more than the art of cake and being able to share it with the world :)
Course Curriculum
Introduction
Available in days
days after you enroll
Prep Ahead- Gumpaste, Cake, Buttercream, Ganache
Available in days
days after you enroll
Class Materials
Available in days
days after you enroll
Check out more pricing options for our Advanced courses!
$37
Single
Access "This Course" for life

Available 24/7
Monthly
Access to all "Beginner" level courses

Available 24/7
Best value
$15
/ monthly
* $180 Billed annually
Yearly
Access to all "Beginner" level courses

Available 24/7
Frequently Asked Questions
What are your purchasing options for courses?

Caking Art has three options for purchasing our beginner courses:

Each course can be bought individually with the price listed by the course description. When you purchase an individual course you will have access to it forever!

Our second option is to become a Monthly member. No commitment, cancel when you want and get a big discount on your courses!

Thirdly, you can become a Yearly member. Pay for the year upfront and get an even bigger discount on your courses!

See our course pricing below:


Beginner Membership- *includes access to all beginner courses:
One time purchase: $37
*Monthly price: $19/m
*Yearly price: $180/yr

All Access Membership - $39/month, includes access to ALL courses We currently offer our advanced courses for individual purchase!

How does the membership work?

With our monthly membership you will receive: Full access to all of the courses we offer within that membership tier Pre access to all new monthly videos Discounts in our merchandise store Access to our facebook group community where you can ask questions, share your work and receive new content posted every month Monthly membership can be cancelled anytime, no contract required.

Can I see what content I will receive, before I become a member?

Yes! Our library shows a full list of all the courses we offer.

Click Here

Are your courses suitable for everyone?

Yes! We offer courses at every level whether you are at a beginner, intermediate or Expert level, you can start and work your way up. We also make every course easy to follow with step by step instructions, so you can work at your speed to create even the most intricate of cakes.

What is included in a cake course?

With each course you purchase you will receive in depth video instruction on how to create the cake offered. Along with the video you will receive a supply list for each lesson as well as recipes and any templates required to create the cake.

How can I access a course I purchased individually?

Once you've

Purchase a Course

, you'll need to log in to your school or myTeachable account in order to access your course. When you enroll in a course, you'll receive an email confirmation that contains a link to the course. You can use this link to open your course, or you can type the school or course page URL into the address bar of your web browser. If you experience issues logging in or accessing your course, refer to

Login Issues

or

Contact the school owner

Where can I find receipts or invoices for my payments?

You can view your receipts and invoices in your Teachable account back end.

Learn More

I want a refund.

Teachable's refund policy for students makes it mandatory for school owners to fulfill refund requests within the first 30 days of purchase if using the Teachable platform to handle payments.

Learn More.